Monday, December 18, 2006
Predicting The Big Stories in 2007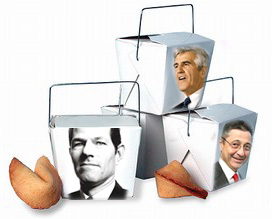 A very interesting collection of 2007 predictions from journalists...professors.....Directors of think tanks etc......I am going to quote a few that relate to Spitzer............
"Everything does not change on Day One -- or Week One, Month One, Year One, or even first term. But a lot does. Albany is awakened up from its long dysfunctional, often corrupting, sleep."
'Eliot Spitzer will charge into the governor's mansion and pick at least one high-volume, high profile fight with Sheldon Silver to demonstrate his independence. One likely point of contention: Spitzer's efforts to reform redistricting and campaign laws. "
"Governor Spitzer will move quickly to stuff the legislature with big proposals for change, including less power for two of the three men in the room (guess which two.) "
"Spitzer will be very popular in his first year, despite a tough love budget. "
"The Spitzer administration accomplishes more in its first six months than the Pataki administration did in 12 years. "
For the rest of this very interesting article...............
click here
..........I predict you will enjoy
reading this andy